In September, I always feel this is the beginning of the year and the best time for new beginnings. I do new things and try to find the best next step. So, I started writing down inspirational quotes to motivate myself and to describe the feeling/ task of each week. I thought a good idea would be to decorate them in the living room. I see them and feel stronger. If you try it yourself, they'll encourage you to make your new start. With your inspirational quotes and beginnings 🙂
Questions
1. Which is the quote that best describes your current situation?
2. Paint it and decorate these words.
3. Put it in a place where you can see it.
4. Write down the date, so it will be like keeping a journal.
9/6/21
The subject this time is organizing. Organizing is the first stage before acting. I think it is good to gather facts and then start to make the first moves. So:
Organizing is a creative job.
Organizing saves you time for creating, exploring, and connecting.
After done, organizing allows you to focus on the crucial tasks.
Organizing can be a joyful task like playing or working on a serious project or concentrating using your mind losing time contact.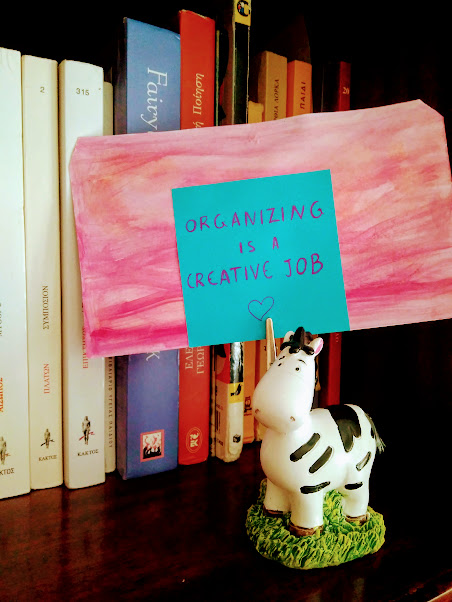 Note: My mentor in organizing is Mary Kondo. Here are her books that changed my life forever.
The life-changing magic of tidying up
https://www.goodreads.com/book/show/43683059-life-changing-magic-of-tidying-up-spark-joy?from_search=true&from_srp=true&qid=vLFnb8dqt6&rank=3
Spark joy
https://www.goodreads.com/book/show/25614984-spark-joy?from_search=true&from_srp=true&qid=vLFnb8dqt6&rank=1